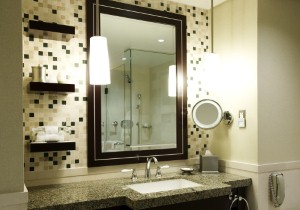 Even after you've found the perfect bedroom furniture or home entertainment furniture for your living space, you might find it to be darker and less welcoming than you would like. This isn't uncommon in small rooms, but that doesn't mean you have to settle for dreariness.
One way to bring an area to life is to create the illusion of more space using mirrors. Whether you already have some around the house or you're open to the idea of bringing mirrors in, there are many ways you can use these decorative pieces to improve your interior design.
Going tall
Real Simple Magazine states that using tall mirrors can be the difference between a dark room and a welcoming one. Consider bringing in a mirror that's at least three-fourths as tall as the wall and use it as a prop to develop the illusion of more room, whether it's needed in your bathroom or dining area. Who knew that making the interior design of a space more eye-catching could be so simple?
Collecting reflective surfaces
Suppose you go into your attic and you find several old mirrors, but none of them are large enough to create the illusion of extra square footage you desire. Does this mean you need to go out and buy floor-to-ceiling mirrors to get the job done? Not necessarily.
Crafting a collection of small mirrors on an area on your wall can make for an eye-catching work of art. Even though they aren't gigantic reflective surfaces, they can still circulate light throughout the room and make the room feel more warm and welcoming.
Reflecting desirable surfaces
HGTV recommends using mirrors to reflect items in the room that you would like to draw attention to, whether it's an antique dining room table or a collection of vases. This can emphasize the beauty in your interior design while making the room seem larger.
"The location and placement of the mirror are key when utilizing them - you want to ensure that it will not create undesirable reflections and will allow it to maximize its innate qualities," designer Celia Berliner told the news source.
Complementing existing decor
While there are few rules when it comes to placing mirrors, try to find pieces that complement the existing decor in the room to pull the overall interior design together. For example, look for an antique mirror if you have a vintage theme throughout the space.