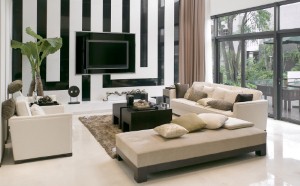 Just because you personally have a taste for neutral colors in your home doesn't mean that your living spaces have to be boring. Whether you can't get enough of eggshell bedroom furniture or chocolate brown dining room chair, there's nothing wrong with having a passion for neutrals.
The key to using these hues successfully throughout your home is knowing how they complement each other. Houzz.com states that you can't go wrong by choosing one color and going with various shades of this hue. For example, consider multiple shades of beige when choosing home theater furniture to create a cohesive interior design in your living room.
If you find that this tactic isn't doing much for your decor, try incorporating textures and patterns into the area. Whether it's on the wallpaper or your throw pillows, a little bit of texture can go a long way when it comes to adding visual interest.
Just because people have told you that beige, eggshell and white are boring doesn't mean that you have to rule them out of your design scheme. Neutrals can create an instantly soothing interior in any room of your home.