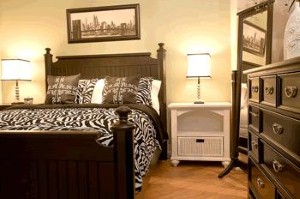 There's nothing quite like incorporating an eye-catching print into a space to make it more intriguing, especially in a bedroom. If you're interested in transforming this frequently-used area into a haven, you might want to consider animal print decor to accent your bedroom furniture.
Even though it might be difficult to grasp the concept of going bold with this type of print, Freshome.com states that animal patterns can be perfect in casual and formal spaces alike. The first way to incorporate a print into your room is to make it the focal point of the space. Find an animal print comforter or throw to draw attention to the pattern and make it truly pop.
Because animal prints can have a series of different shades, it's a good idea to stick to a neutral color scheme for the rest of your room. There are several bedroom sets in hues such as black, beige and eggshell that can allow animal print to speak for itself.
If you want to use animal print in your bedroom but you're afraid of it becoming too overwhelming, try it in a few accent pieces and accessories instead of making it a large focal point. Look for animal patterned pillows and wall art to bring the decor into the room without going overboard.