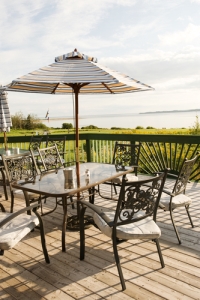 When was the last time you spruced up your patio? If you can't remember the last time you replaced your outdoor patio furniture, it might be time to revamp this space. While you might think that this area of your home is unusable during the winter, there are plenty of ways you can utilize your patio when the temperature is chilly and improve its design.
First, Better Homes and Gardens magazine recommends installing an outdoor fireplace. Doing so can not only provide warmth and make your patio usable in the winter, but improve the comfort factor of the space.
Next, consider replacing your patio furniture to give the area the TLC it deserves. Bring in weatherproof cushions to ensure your family can use it throughout the year, even after summer is long gone.
Finally, Yahoo! states that it's important not to rule out accents such as outdoor fountains and decorative plants. These little touches can transform your patio into a sanctuary for the entire household. By taking a few of these tips into account, you can look forward to using your outdoor space on a regular basis.