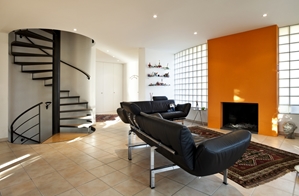 If you're interested in incorporating pieces with modern flair like the Le Corbusier Style Loveseat into your home you may want to utilize more contemporary decor to complement your furniture. However, it can be challenging to transform a traditional space into one with an updated, 21st century look. Here are some tips on how to achieve your contemporary design goals.
Keep minimalism in mind
Sleek, chic furniture with sharp edges make up what it means to go modern. Think minimal as you select everything from home entertainment furniture to additional seating for this room in your home.
Try open concept
An open concept living area is not only spacious, but seen in many modern houses these days, according to Freshome. Think about trying this in your humble abode to fall in line with contemporary trends.
Use rich colors
If you're on a budget and you can't afford to bring in numerous modern furnishings, TLC recommends making sure you choose pieces with bold color. This can ensure that the few furniture items that you have create a memorable impression on those who see it.
By taking these tips into account, you can transform any traditional space into one that looks straight out of the 21st century.