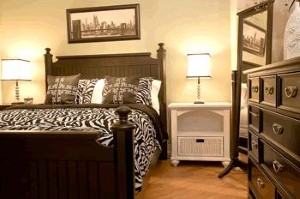 If all of the bedroom sets you've looked at for your living space seem a little bland, think about what you could do with the bedroom furniture once you bring in additional accessories. Sometimes, all it takes is a few accent pieces to give a set some pop that it wouldn't have otherwise.
One option you might want to consider to add flair to your bedroom is animal print. Whether you just brought in new furniture or you're trying to work with what you already have, animal print can bring an exotic touch to your living space.
HGTV suggests combining a variety of different prints to bring your furnishings to life - if you can't decide between tiger and leopard print, you don't have to!
To create a focal point in your bedroom, you might want to consider using an animal print area rug to anchor the space. Top it all off with cheetah-inspired throw pillows and blankets to give your room a fresh look.
Although it might not seem like animal print has a place in your home, this wonderful decorative strategy might be all you need to transform a dull room from drab to fab!