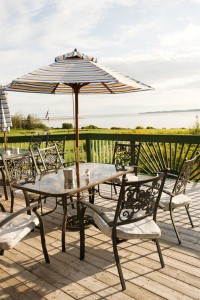 If you have recently put in a deck or patio, it's likely you can't wait to get outside and start enjoying your new space. That being said, you'll need the right outdoor patio furniture to make your area suitable for use. Here are some tips when shopping for patio furniture for your home.
1. Measure accordingly.
The Washington Post states that the most important step when buying furniture for a new outdoor space is to measure accurately. Know the length and width of your deck so you don't make the mistake of buying pieces too large for the area.
2. Know the materials.
Patio furniture is made of various types of material, ranging from iron to plastic. Each variety comes with its own level of maintenance to be mindful of as you shop. For instance, wood may need more care when left outdoors and exposed to the elements.
3. Consider additional accessories.
If the furniture doesn't come with pillows and cushions, keep in mind that these are additional expenses you'll have to calculate when shopping. You might also want to consider pieces, such as an umbrella or a rolling cart, for the ultimate convenience.