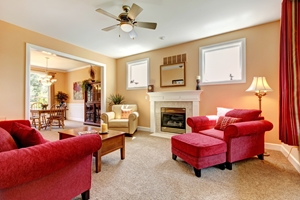 You might love your Le Corbusier Style Lounge Chair and other home entertainment furniture, but what if your furnishings are oversized? Large pieces can create a sense of coziness and develop a traditional look in a living space. However, they can be challenging to arrange in your home if you aren't familiar with positioning items of this size. Here are some tips on how to ensure all of your chairs and tables appeal to the eye.
1. Get rid of unnecessary decor
One way to make room for large furniture is to get rid of unnecessary items in your space. This means eliminating knick-knacks and purging old decor that doesn't complement the furnishings you're trying to introduce into the room.
2. Measure accordingly
As a rule of thumb, HGTV recommends always having a tape measure handy to ensure your furniture can handle the living space. It's better to know before you try to move large pieces into the area!
3. Use corners to your advantage
If it seems like your room is too small for your furniture, take advantages of corners. TLC claims that these spaces are often unused, but extremely practical and functional while trying to arrange furnishings.