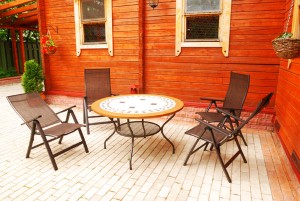 Now that winter is arriving and cold weather is settling into much of the country, more people are bringing in their outdoor patio furniture to keep it from becoming worn from the weather. However, it's possible to invest in patio furniture that can stand up to the elements as well as the test of time. Certain materials are more durable than others - here are some of the most popular ones.
1. Aluminum.
As Good Housekeeping magazine reports, aluminum patio furniture can be ideal because it won't rust or fade with time. However, it can be pricey if you're looking for a durable option.
2. Steel.
Steel is another metal that won't warp, fade or rust over time. That being said, keep in mind that steel furniture can be heavy and tough to move.
3. Wicker.
There are now weather-resistant varieties of wicker that boast durability. However, wicker can be expensive if you're purchasing a whole set.
NBC affiliate WNDU-TV reports that certain levels of precaution should still be taken in winter, especially during heavy snowfall. Storing patio furniture is one of the easiest ways to keep it safe and intact.