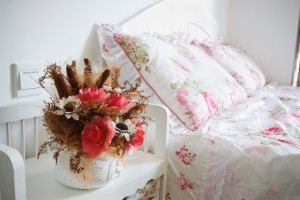 Just because you're moving from an apartment to a condominium doesn't mean you're going to have an ample amount of space to work with - depending on the building, you might still have limited room, which can be a problem when it comes to decorating.
That being said, there are a few ways you can make the process a bit easier, whether you're interested in sprucing up your bedroom furniture or enhancing your home theater furniture in your new condo. Here are some tips for amateur interior designers.
1. Use open storage.
Whether you're in need of a DVD storage cabinet for your media or a bookshelf for your novels, think open! Better Homes and Gardens Magazine recommends open shelving to create a more airy, light feel throughout a condo with limited space.
2. Go bright.
Bright colors and neutrals such as eggshell and sandy beige can instantly make a condo feel larger and more welcoming. If you're permitted to paint the walls, do so with paint in these hues to open up the area.
3. Create optical illusions.
Use mirrors and other reflective surfaces to create the illusion of more space. This tactic works perfectly in everything from bedrooms to dining rooms.