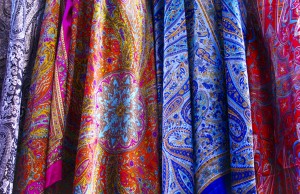 If you think it's time to overhaul your living room, dining room or bedroom, you might be at a loss when it comes to finding ways to efficiently spruce up the space, especially if you've never redecorated before. While you don't necessarily need a professional interior designer to help you turn a space from drab to fab, it's worth familiarizing yourself with ways that you can use patterns and textures to enhance a room.
Once you bring in new bedroom furniture or home theater furniture, you'll want to add the perfect accent pieces to the area to bring out the best of the space, whether it's the walls or windows. Patterns are a great way to make a room more intriguing, but it can be intimidating to work with them if you've never attempted to do so before. Here are some tips on how to use patterns and textures to your advantage while redecorating.
1. Use different scales.
Better Homes and Gardens Magazine states that it's possible to use a handful of different patterns in a room if you're mindful of the size of your furnishings. For instance, mixing large and small decorative pieces with various patterns can help create a balance while bringing the existing theme of the room together. Envision a large pattern wall painting and a small textured armchair working in harmony.
2. Take the purpose of the room into account.
To avoid patterns from making a room seem too busy, TLC recommends taking the purpose of the space into consideration. For example, if it's meant to be a quiet family room where everyone relaxes, don't choose patterns that are bold and vibrant. Knowing where to draw the line can help you prevent a design disaster.
3. Don't go overboard with color.
InteriorDesignPro.org states that if you don't want a wide array of colors in your patterns and textures, don't force yourself go this route. Choosing designs in neutrals such as beige and eggshell can create a look that is just as beautiful and eye-catching. If you already have bold hues on your walls, this is an especially viable choice when selecting patterned and textured furnishings for the room. Although neutrals have a tendency to seem boring, they can create a sense of elegance in one of the most luxurious living spaces of your home.