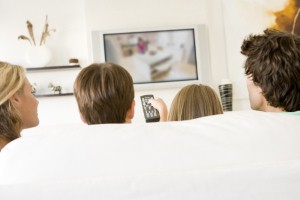 There's nothing more exciting than bringing in a new television and home theater furniture to spruce up your living room. However, it can be difficult to decorate around a television, especially in a small space. Even if you have a corner TV stand to keep it out of the way, furnishing your room can become tricky. Here are some tips you can use to your advantage.
1. Bring in natural light.
Just because you have a small living room doesn't mean you can't have a big television - it simply means you need to plan around it. Allowing natural light to flow into the space can instantly make it appear larger than it really is and create a more welcoming atmosphere.
2. Hide wiring.
The Associated Press reports that it's in your best interest to hide as much wiring as possible - this can keep the space from appearing cluttered and confined. Not to mention, doing so can prevent trips and falls due to the cords.
3. Surround the TV with wall art.
Freshome.com states that wall art can help frame your television and anchor your entire interior design. Think about hanging it above or next to the television for a structured, eye-pleasing look.