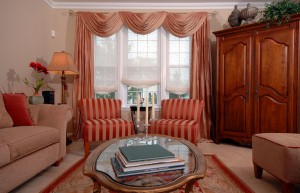 You might have the perfect home theater furniture in your family room, but a dull interior can make it a less enjoyable space. That being said, you don't need to be a professional designer to create a family room that appeals to your loved ones. Sprucing up the space can be as easy as coming up with a fun theme. Here are some ideas you might want to use to guide you along the way.
1. The ocean and beach.
You don't have to live on the seashore to have a family room that reminds you of a beach house! Houzz.com encourages homeowners to try this theme to create a relaxing space that reminds them of their last tropical vacation.
2. An American cottage.
If you want to go traditional, House Beautiful magazine recommends letting the idea of an American cottage lead the way. Choose a corner TV stand, side tables and chairs composed of an old, durable wood such as maple to create a classic family room.
3. World travels.
Another theme you might want to consider is travel, according to HGTV.com. A travel-themed family room full of maps and eclectic souvenirs can make your family room a great space for entertaining as well.