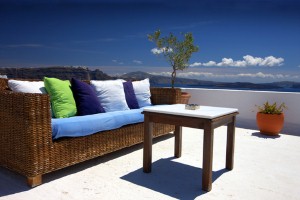 If your backyard has seen better days, you might want to think about sprucing it up in time for summer with new outdoor patio furniture, accent pieces and potted plants. Although you might think it takes time and a lot of effort to revamp your space, there are a few changes you can make over the course of a single weekend that will wow you and your guests.
Better Homes and Gardens recommends using fun-shaped patio furniture and arranging your pieces in unique, creative ways to draw interest to your patio or deck. Don't just opt for chairs that are square, bulky and boring - instead, look for an egg chair or bring over rounded outdoor throw pillows to spice up the space.
Next, consider picking a theme to make the design process easier. Whether it's old country or Mediterranean, having a theme in mind can help you match your outdoor patio furniture accordingly.
Finally, Homedit.com suggests bringing in potted plants, even if you already have flowers and shrubs around your yard. Doing so can help you blend the lines of outdoor and indoor spaces, and plants can instantly make your patio feel more welcoming.