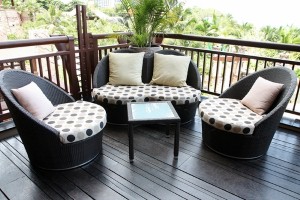 Now that spring is here, you're likely thinking about bringing your outdoor patio furniture in from the shed to turn your deck into a more versatile space. However, dirt and stains that have built up on your patio furniture over time might have you considering buying a whole new set.
Believe it or not, there are ways that you can get rid of everything from mildew to water stains on patio furniture, even if it has been there for months while in storage. Real Simple reports that one way to get rid of stains on plastic furniture is to apply a mild detergent and water mixture, then scrub away with a sponge. This can cut through stubborn mildew and mold that may have built up over time.
If your problem is in regards to the seat cushions you have, check the label to see if they can be cleaned in the washing machine. Worst case scenario, a little laundry detergent and water can go a long way when restoring outdoor fabric.
When your outdoor patio furniture is too damaged to be repaired, keep durability in mind when shopping for new chairs and tables. Iron wrought pieces may be best for homeowners who want furniture that will last.