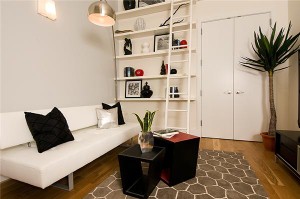 Whether you think that your bedroom furniture could be rearranged to better cater to your living space or that your home theater furniture simply isn't working with your existing decor, you can potentially improve the look and feel of the room by rearranging your chairs and tables.
While many people don't immediately think to move their furnishings to make a room seem more appealing, this tactic is simple and can do wonders for any living space in your home. If it's your bedroom you want to improve, finding a new area for your dresser can make your space feel more light and open. Want to spruce up your living room? Try moving your sofa to another location to create more area for walking. Here are some tips on how to rearrange your furniture and give it a whole new design.
Square it off
Real Simple Magazine reports that one of the easiest ways to turn a casual space into a more elegant, formal one is to go with a square plan. Arrange your furnishings in a fashion that creates a cozy, square look. Make sure that your chairs set up to form an enclosed space. This can make your room more of a gathering area for formal occasions. To keep it from looking too plain, bring in decorative items with textures and patterns.
Open yourself to repositioning
Who says your furniture has to be in the same place all of the time? While you might have a few large components in the same area for the most part (e.g., a sofa, recliner), there's no rule that says you can't move your pieces on a regular basis, according to Better Homes and Gardens Magazine. Instead of dedicating yourself to one arrangement, don't be afraid to move smaller pieces such as ottomans and side tables on a regular basis for practical reasons.
Be mindful of walking lanes
Let areas where you need to walk guide you as you rearrange your furnishings. Whether you choose to place your sofa up against the wall or move your entertainment system to the corner of the room, be sure to leave enough room for walking around. In the end, this can make your space more enjoyable, regardless of which area you're revamping.