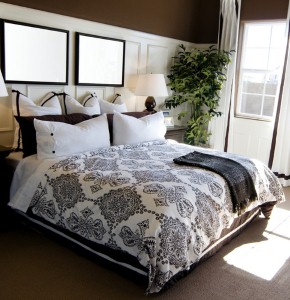 When it comes to your guest room, you might not think much about its interior design until you're expecting a guest. Before you go out and begin shopping for new bedroom sets to wow your visitors, think about what you can do with your existing bedroom furniture.
There are a few tips you can take into account to immediately spruce up your guest room, even if you only have one or two days to do it. First, MarthaStewart.com recommends making sure you have enough pillows on the bed - mainly to prop up and adjust for reading.
Similarly, you'll want to double-check the bedroom lamp to ensure that the bulb still works. Try to provide more than one source of light in the room to make it feel welcoming and comfortable.
Next, provide plenty of linens - comforters, blankets and quilts for your guests to stay warm. Off to the side, leave a few hangers for his or her clothing if you're giving your guest closet space to use.
Finally, add personal touches that make the guest room feel more homey. Think about bringing in a vase full of fresh flowers or leave a bathrobe and towel on the bed for your visitor - he or she is sure to enjoy the stay.