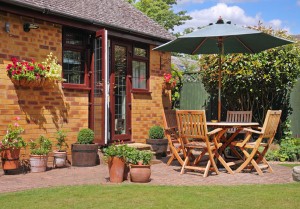 Whether you have iron or wicker patio furniture, you'll likely want to make the most of your investment by protecting it over time. Because patio furniture is meant to be used outside, many people assume that maintenance is unnecessary. However, allowing outdoor patio furniture to be exposed to the elements for an extended period of time can cause damage.
One way that you can protect your investment is by buying patio furniture covers. Dreams Alive Magazine recommends looking for covers that are waterproof and designed to withstand everything from rain to snow.
Once the leaves start to fall or the pollen starts blowing, vacuum your cushions to prevent the debris from causing tough stains.
MyMilwaukeeLife.com states that some types of patio furniture may be able to be painted in order to provide additional protection. Latex paint can be especially helpful when it comes to preventing ultraviolet rays from causing discoloration on furniture.
Moisture is the biggest threat to patio furniture and cushions. It can cause mildew and mold, permanently damaging the furnishings. If you have your doubts about using a cover, find a shed or closet to store your furniture in during inclement weather.