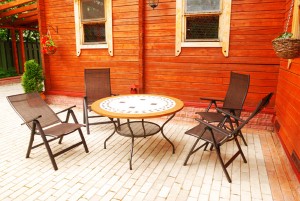 Wrought iron patio furniture is popular among homeowners for a number of reasons. Unlike plastic patio furniture, iron is strong and durable, meaning it can survive for a number of seasons when left outdoors. However, there is a certain amount of care and cleaning that must be done in order to extend the lifespan of wrought iron patio furniture.
FurnitureCareTips.com reports that it's important to repaint any paint that may chip off due to wear and tear. Leaving the iron exposed can result in rusting and shorten the life of this type of patio furniture.
If rust has already developed, rust-resistant primer can prevent it from spreading until it can be removed. The primer can then be sanded down with steel wool to help the portion of the furniture blend in with the rest of the material.
If you want to leave your patio furniture outdoors throughout the year, you might want to consider buying covers for your tables and chairs. This can help further preserve your iron furniture and make the most of your investment. Best of all, covers can easily be removed whenever you want to use the pieces.