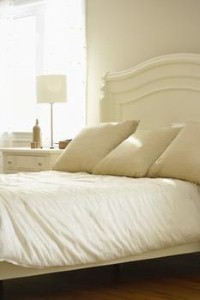 There are many bedroom sets, curtains and accent furniture items to choose from when decorating a master bedroom, meaning it's easy to get carried away when designing this space. Going overboard can result in a bedroom that is uncomfortable and too busy for relaxation.
Freshome.com reports that one of the easiest mistakes you can avoid while decorating your master bedroom is bringing in too much - that means everything from bedroom furniture to decorative accents. Unnecessary clutter can make a space feel small and cramped.
Yahoo! states that it's also a good idea to avoid using bold colors when it comes to your walls or wallpaper. While a fire engine red might help liven up your kitchen, it can make it difficult to relax in your bedroom at night.
Finally, make sure your floor is just as comfortable as the furniture in your master bedroom. Hard flooring, such as hardwood or ceramic tile, can be cool to the touch underfoot. If you have this type of flooring in your bedroom, put down area rugs to create more warmth and comfort. Although it might seem easy to design the perfect master bedroom, there are many common mistakes to avoid in the planning process.