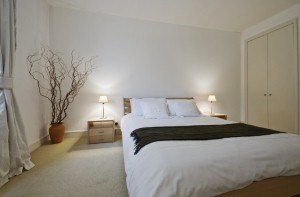 While you think your overwhelming, heavy bedroom furniture is to blame for the dark feeling in your bedroom, you might want to consider the overall interior design of the space. Depending on the color of your accent pieces and walls, your furniture may only be the icing on the cake.
In order to brighten a dark bedroom, there are a few steps you can take. First, the most obvious move is to bring in more light. If possible, opt for natural light through your windows. Use sheer window treatments to allow more sunlight to flow into the space.
When the sun goes down, you'll want to have plenty of lighting fixtures to brighten up your bedroom. Mix it up with different standing lamps, table lamps and overhead lights to create a more vibrant, uplifting feeling in the space.
If you have heavy, oversized furniture in your room, this is also a great opportunity to make a switch. Look for bedroom sets in neutral hues or white to make the area feel more spacious. If you don't want to get rid of all of your existing furniture, give your pieces a new coat of paint to spruce them up and cater to your new interior design.