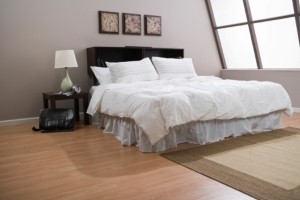 It might seem like a blessing to have a larger-than-life bedroom, but without taking the time to create a viable interior design for the space, the room can quickly become intimidating and downright uncomfortable.
With the right bedroom furniture and decorative accents, there are a few ways you can transform one of your most used living spaces from cold to cozy. When shopping for bedroom sets, don't concern yourself with primarily purchasing large pieces to take up the extra space. Instead, Houzz.com suggests using bold colors to add depth. Look for dark tones of red, blue and green to make your bedroom feel more homey and cozy.
Another way to transform your large living space from intimidating to inviting is to bring in textured materials. TLC recommends opting for animal print or paisley to give your room some flair and show your personal style.
If you intend to add seating to your bedroom or a vanity, look for antique pieces that are oversized and have charm to them. Ask around and see if your family has any hand-me-downs to use in your bedroom to truly make it a haven.