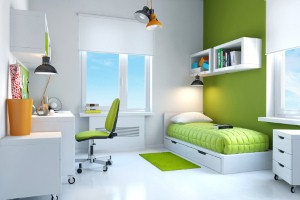 Although it may seem like girls are more picky than boys when it comes to personal style, you might be surprised to find your son growing out of his bedroom quicker than you expected. As your child goes from being a happy-go-lucky kid to a busy adolescent, you'll need to think about what type of bedroom furniture is best for your growing son.
There are many bedroom sets that can cater to your child's personal taste during the early years of his life, but it's important to choose one that will still be pleasing to the eye once he becomes a teenager. Try to incorporate primary colors into the interior design of the space. Not only are they attractive, but they won't go out of style anytime soon.
Next, make sure you have adequate shelving and storage areas that your son can use in childhood, as well as during the teenage years. When he's a kid, he can use it for toys and make it easier on you when you clean his room.
Finally, give your son specific areas of the room for work and play. As he starts to get more school work, a desk will become beneficial. A bean bag chair can make a spot of the room perfect for relaxing.