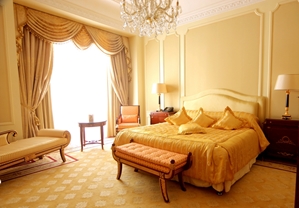 You might have enough space in your master suite for the Florence Knoll Style Arm Chair and other large pieces of bedroom furniture, but it can be impractical to simply fill up a spacious room with furnishings and decor. After all, you'll want enough room to walk around and get in and out of bed without any troubles - so what can you do when you need to decorate an oversized master bedroom?
One of the biggest complaints of homeowners with large, open spaces is that they lack a sense of coziness and comfort. However, you can instantly introduce this into the area without needing to add an entirely new bedroom set to fill the room. Apartment Therapy recommends bringing in items that make you think of warmth and cuddling in order to create a comfortable atmosphere. This might mean throwing more pillows onto the bed or opting for a new down blanket that you can use.
Good Housekeeping magazines states that it's also important to embrace different textures to add visual interest to the room and distract from its size. For example, apply textures and patterns to your linens, window treatments and everything in between for a cozier environment. By taking these tips into account, you'll be happier with the end result.