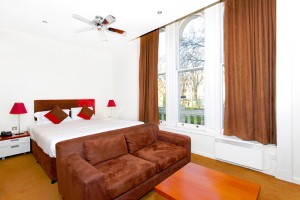 If you have a studio apartment, you might feel limited about the amount of furnishings you can bring in, especially if you already have bedroom furniture and home entertainment furniture from a previous house. Studios tend to be small in size, but that doesn't mean you can't make them into cozy spaces.
The first step to making the most of your studio is to allow more natural light to flow into the space, according to TLC.com. By opening up your windows and bringing in some sunshine, you can make the apartment feel larger than it really is.
Next, invest in multipurpose furniture that can be broken down to conserve space. For example, a futon or day bed is perfect for a studio that may be limited in room. Folding tables are also ideal for small apartments.
Finally, don't skimp on the items that you need to make your studio feel like a home. For instance, if you think more throw pillows could keep you at ease, go for it! Your interior design is only limited by your imagination, whether you have a condo or an apartment.