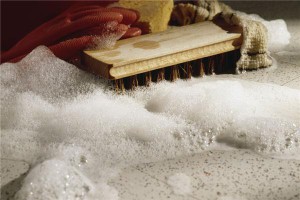 You might have the perfect home theater furniture and interior design in your living room, but if you don't maintain it on a routine basis, you could be facing an uphill battle to keep it looking beautiful. While some people might genuinely enjoy cleaning, you may not be one of them. If this is the case, there are a few tactics you can use once in awhile to keep your room terrific for an extended period of time - one big cleaning session every month isn't too bad!
Cleaning hardwood
Whether it's a corner TV stand or a side table, wooden furniture can be tricky to maintain and clean. However, taking precautionary measures and opting for mild cleaning solutions can keep you from ruining your wood. For oiled wood, TLC.com states that it's important to stay away from waxing to maintain its natural shine. Instead, use mild abrasive oil to wipe down the pieces and remove any grime.
Polished wood can be buffed gently with a rag soaked in tea to get rid of any debris. There are also commercial polishes that can be used specifically for this type of wood to keep it looking beautiful.
Eliminating clutter
To maintain the interior design of your living room, it's important to stay on top of the clutter that can quickly pile up during the hectic work week. One way to make sure that this task doesn't become overwhelming is to bring in storage cabinets where everything from DVDs to kids toys can be stored and placed out of sight. Interiorholic.com also recommends dedicating a specific area to items that are frequently used, such as the remote control or drink coasters.
Maintaining carpeting
Carpeting is commonly used in living rooms, especially in households with children - it's soft underfoot and can reduce the risk of injury in the event of a slip and fall. However, carpet can quickly become soiled in a high traffic area, meaning regular maintenance is necessary.
This doesn't have to be a hassle - simply vacuum once a week to eliminate any dirt and debris that may create stains on the carpeting over time. To make preserving your carpeting even easier, think about laying down area rugs and runners where your family regularly runs around. These small tactics can make a big difference when it comes to keeping your living room looking wonderful.