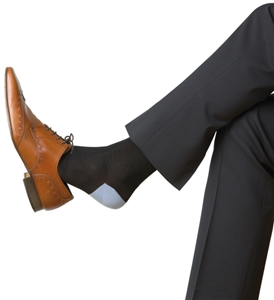 If you're wondering why the iconic Eames Lounge Chair boasts a high price tag, you may want to read the materials listed on the manufacturer's note. The materials used to create the chair are just as well thought out as the ergonomics that went into the engineering process; the result is one of the most comfortable chairs you will ever come across.
Eames Lounge Chair Shell Materials
The frame of the Eames Lounge Chair is built from plywood finishes, which are also offered in a variety of finishes such as Walnut and Palisander. The wooden shell includes seven ply of cross grain engineered wood to a seamless finish. To prevent damage and a stabilized, sturdy chair that that is meant to last a lifetime, engineers Kiln dried the frame of the chair to prevent it from ever warping or cracking. An additional four coats of no wax UV cured finish were added to the plywood to further protect and prevent scratches and fading from occurring.
Adding the Cushion and Fabric Seat to the Eames Lounge Chair
?To create the most comfortable chair of all time, six thick, urethane foam CA-117 compliant cushions were strategically placed along the back, seat, armrests and ottoman. The cushions are then contoured for maximum comfort before covered in the highest quality leather in the world. Buyers have the ability to select 100 percent Full Grain Italian Leather or 100 percent Full Grain European Aniline Leather upholstery. Both the Full Grain Italian Leather colors are available in black, white, ivory, red, chocolate brown, brown and caramel finishes, giving consumers a wide variety of hues to choose from.
- Full Grain Italian Leather is hand-selected and hand-crafted, which is why it is superior to other leathers produced throughout the world. This particular type of leather is coveted by high quality furniture manufacturers because it can withhold its original condition much longer than other types of leather.
- Full Grain European Aniline Leather is popular because of the soft, natural feel of the material. Aniline is also recognized as one of the most breathable types of leather because it is not treated with a topcoat; this production method results in a cooler, more comfortable material to sit on. Only the best selection of hides can be used to procure aniline leather, which is why it is of such superior quality compared to its counterparts.
Adjusting the angle of your Eames Lounge Chair
The five-star lounge base allows the occupant of the chair to adjust their seat accordingly, and can be tilted up to a 15 degree angle as needed. A built-in swivel mechanism with threaded glides offers long lasting level seating for the ultimate seat to work or lounge in. Other materials to note include the adjustable stainless steel guides with protective foot-caps and die-cast aluminum braces at the base of the chair.