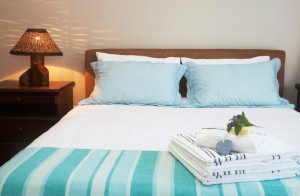 If you're a big fan of teal, you might think that there's no possible way to incorporate this vibrant hue into your bedroom furniture and accent pieces. After all, teal is a color that can be difficult to match when it comes to other furnishings. However, there are a few ways you can incorporate this hue into your interior design without going overboard, whether you want it in your master bedroom or living room.
First, Houzz.com recommends working the color in with other shades of green. Because teal has hints of green in it, it'll work seamlessly with shades of this color. Consider incorporating the hue into everything from your home theater furniture to your wall paint in order to pair them with teal.
Next, think of ways you can tone down the teal in your space if you feel that it's becoming overwhelming. The easiest way to do so is with neutral accent pieces - consider white throw pillows or an eggshell rug to stabilize the overall design.
Finally, Better Homes and Gardens Magazine states that wood works beautifully with shades of blue, meaning it's another option available to you if you're using teal. The softness of wood caters to the intensity of vibrant shades of blue, creating a more subtle, soothing atmosphere.