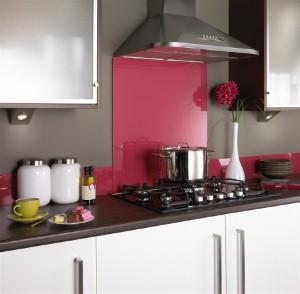 If you're thinking about redesigning your kitchen to give it a fresh look, you might want to consider choosing a color palette to work with before you make any changes. Having a color in mind while decorating can make it easier to find everything from the right appliances to wallpaper.
HGTV recommends going bold with hues, such as red, blue and yellow. These primary colors are simplistic, but come in various shades that can help you achieve the interior design of your dreams.
If you choose to go with red, be daring about the shade that you choose. Fire engine red on a accent wall or counter top can help you create a look that will make an impression on those who visit.
Yellow is another bright color that can make a statement in a kitchen. Look for kitchen bar stools or appliances in this hue to create a welcoming feeling. Incorporating the color lightly into pieces of furniture, such as bar stools, prevents it from becoming overwhelming.
If you choose to go with blue, have an open mind and consider electric blue or cobalt. Stepping outside of your comfort zone can help you create a more vibrant, interesting kitchen.