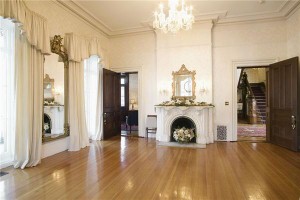 The great room is often regarded as the big family gathering place of a home, full of home theater furniture and comfortable seating for everyone to relax and enjoy. But when was the last time you updated the interior design of your great room?
If this living space is in need of a little TLC, there are a few ways you can revamp it in just a few days. One way you can instantly give your great room a facelift is by eliminating clutter and organizing your media. Consider bringing in a DVD storage cabinet or a television stand with cabinets to make the decor the star of the room - not the items scattered throughout the space.
To make your great room feel more cozy, SheKnows.com recommends using warm colors that create a welcoming atmosphere. Try to avoid painting your walls dark colors if possible to prevent the great room from feeling smaller than it really is.
Finally, don't forget to personalize the space. Use items you found on vacation or framed family photos as decor throughout the room. By making the great room truly your own, you can turn it into an area that you want to use on a regular basis.