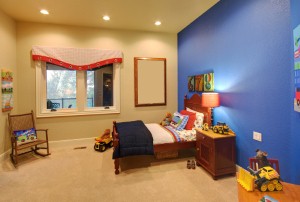 If your little one is having trouble sleeping in his bedroom at night, you might want to take another look at the bedroom furniture and decor in the space. Does it cater to a good night's sleep, or could it be more comfortable?
Just because your child isn't interested in lavish throw pillows and luxurious bedding doesn't mean that he doesn't want to feel cozy in his own bedroom. There are a few ways you can select kids bedroom furniture, wall paint and window treatments that encourage restful evenings for your child. Here are some tips on how to achieve your interior design goals and please your kid at the same time.
1. Bring in blackout curtains.
It might seem dark, dreary and unnecessary, but blackout curtains can be the difference between a child who doesn't want to fall asleep nightly and one who easily drifts off into a slumber. Health.com reports that a dark room is important when you're trying to get sleep - it encourages the body to produce melatonin, which helps you get some shut-eye.
2. Choose furniture together.
To make your child truly feel like his space is his own, you'll want him to be a part of the selection process. Even if you think that your little one is too young to be making furniture choices, ask him which color he would like to see and what type of patterns he desires. These small tactics can help him fall in love with the room and look forward to sleeping in it nightly.
3. Select comfortable bedding.
It's important for kids to have bedding that makes them feel snug and warm - this can make it easier for them to drift off to sleep at night, which means less work for you. Look for a thick comforter that can easily be pulled back when he gets too warm, then complement it with soft sheets that have a high thread count for the utmost quality.
4. Opt for soothing colors.
When sleep is an issue in a bedroom, you might want to consider switching up the colors. Opt for soothing hues such as mellow yellow, lavender or peach to create a tranquil environment that encourages sleep. Color can play a large role in how you feel when you walk into a room.