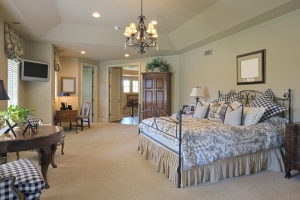 If you've been looking through numerous bedroom sets to redesign your master suite and you haven't been able to find one that suits your taste, you might want to consider a theme. By coming up with a theme for your bedroom, you can make it easier to select everything from linens to furnishings in the space.
One style that may quell your cravings for an elegant master bedroom is French country. While you might have heard of this style before, there are certain decorative accents that go into French country bedroom furniture that separate it from other traditional designs. Here are some of the key characteristics of this interior style and how you can incorporate them into your bedroom.
1. Flower print is welcome.
When selecting everything from wallpaper to linens for your master suite, think floral. Flowers are everywhere in French country decor, and they can be a quick and easy way to incorporate beauty into a space. Whether you love the look of roses or sunflowers, think about adding them to your French country bedroom.
2. Warm colors are a must.
You might think of different shades of white and beige when French country comes to mind, but you aren't limited to these colors are you design your interior. InteriorHolic.com reports that warm colors are the name of the game when decorating a space with this style. Think yellow, red and varieties of brown throughout your bedroom as you look for furnishings, wall decor and bedding.
3. Trims and finishes reign supreme.
As Better Homes and Gardens magazine reports, trims and finishes are key in French country design. It's all about the small details - keep this in mind as you decorate to achieve your interior decorating goals.
Look for chairs, bed frames and vanities that include elegant, exaggerated trims to create a luxurious feeling in your space. Think royal as you select furnishings for your bedroom to create the perfect French country interior.
4. Pattern is everything.
While it's true that floral prints are a key aspect of French country rooms, they aren't the only pattern worth noting as you design your space. In fact, the more patterns you can incorporate into your bedroom, the better! Think of using everything from stripes to paisley to create a French country master suite that pleases the eye.