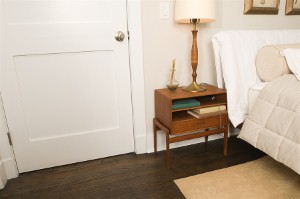 It can be difficult to find bedroom furniture for a guest room that lacks space. However, many bedroom sets can be arranged in a way that creates a more spacious look, even if the room itself is smaller than you would like it to be.
There are a few ways that you can use your bedroom furniture wisely and design your small guest bedroom to please everyone who visits. Country Living magazine recommends using double twin beds instead of attempting to fit a queen size bed into a small room. Not only will this save space, but it can make the room suitable for more than one guest.
Another way to open up the living space is to look for bedroom furniture that is specifically designed for close quarters. For instance, a futon or day bed can serve as a sitting area when it's not being used.
Finally, HomeDesignLover.com recommends bringing in a large mirror to create the illusion of more space. Painting the walls a bright color and using a neutral hue for your linens can also make the bedroom appear larger.