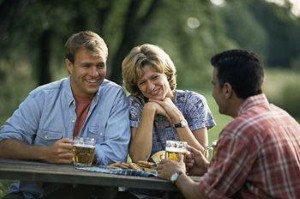 If you have an outdoor deck or patio with a wet bar for entertaining, you'll want to make sure it has an adequate amount of seating to accommodate your guests. Bar stools are ideal for sitting around an island or a tall counter top, but there are a couple things to consider when buying outdoor bar stools for your deck or patio.
First, make comfort a priority while shopping. Although modern bar stools might be exotic and eye-catching, they might be made out of an uncomfortable iron that makes them difficult to sit in for extended periods of time.
If you want to make sure you have a comfortable, aesthetically pleasing chair to sit in, you might want to think about going with leather bar stools. Not only are they soft to the touch, but they can add a sense of elegance to your outdoor bar area.
Whether you have a large budget or a small one to work with while shopping for outdoor bar stools, prioritizing comfort over style can make you happier with your choice. Take the time to find furniture that is both functional and eye-catching to create an appealing design for your outdoor space.