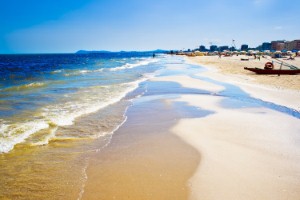 When shopping for bedroom furniture, you may quickly become overwhelmed by the number of bedroom sets to choose from. However, one way to narrow down your choices and make decorating easier is to pick a theme.
If you can't get enough of the seashore, you might want to consider bedroom sets that have a nautical theme. This style of interior design is classic and won't become dated over time, making it perfect for the master bedroom.
When looking for furnishings, window treatments and linens for a nautical bedroom, it's important to keep shades of blue in mind. Whether you love navy blue or teal, incorporating a few different shades of this hue into your room can help you work toward a nautical design.
To keep it from feeling too bland, Better Homes and Gardens recommends adding splashes of coral and maroon throughout the room in small furnishings, such as your lighting fixtures or shelves.
Finally, think simple when shopping for the big furniture items in the room, such as the dresser or bed frame. Look for pieces that are composed of a classic, rustic wood to truly make your bedroom feel closer to nature.