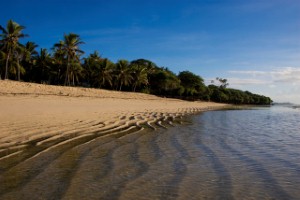 Whether you're decorating the bedroom in your vacation beach house or want your master bedroom at home to have a coastal theme, doing so is a breeze. Bringing the beach into your room of rest and relaxation is as easy as finding the right bedroom furniture to cater to your theme.
In order to create an ocean-inspired bedroom, Country Living recommends finding linens and a bedroom set that have colors reminiscent of the beach. This means incorporating a variety of blues into your decor, whether it be navy or sky blue.
If you're not excited about going completely blue, Southern Living notes that there are other colors that you can add to your furnishings that fall in line with the ocean theme as well. Coral and sea green are two examples of colors that can help you create a coastal feeling in your master bedroom.
Finally, Country Living suggests bringing in finishing touches to pull together the design you're looking for, such as wall art. A painting of the ocean or a few seashells on a console table can truly make you feel closer to the beach and make it easier to relax.