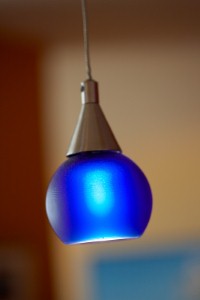 Once you've found the perfect bedroom furniture or decorative accents for a living space, you might think that your design project is complete, but have you thought about how much light you have in the room? While it might not seem like a big concern, lighting can be the difference between a welcoming space and one with decor that falls flat.
There are a few ways you can select lighting fixtures that cater to your interior design if you don't have the option to bring in natural light through windows. Better Homes and Gardens Magazine recommends looking for a chandelier to brighten up your space. Whether you want to showcase your home theater furniture or master bedroom decor, there's a chandelier that can mesh with your room's style and illuminate your room.
Our favorite is the Artichoke Style Lamp , to give a classic, illuminating modern design feel in a simple step. This lamp was inspired by Poul Henningsen.
Freshome.com states that it's important that you don't rely on one type of fixture for the entire space. Use multiple lamps and overhead lights for maximum brightness.
Another option you can consider is pendant lights. They can work well in either a modern or traditional space. Whichever fixtures you choose, shop around before you make a final decision to ensure you make the right one.
To put emphasize a particular featured spot in a room use an Arc Style lamp, such as the Arco Style Floor Light .