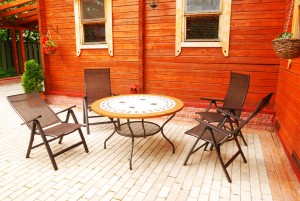 Once you find the perfect patio furniture for your deck, you'll want to enjoy it and relax in the outdoors. However, it can be difficult to make the most of your new investment if your deck is in an area that features direct sunlight. This can make it hot and uncomfortable on days when the sun is especially strong.
However, not all hope is lost if you want to use your outdoor patio furniture and space for entertaining throughout the year. There are a couple of easy ways that you can add shade and privacy to your yard.
AZCentral.com reports that many homeowners opt to install a gazebo or sitting area in their backyard if they live in an area that has long, hot summers. This can give you a place to put your patio furniture to good use.
Another option is to plant trees near your deck that can provide you with an ample amount of shade throughout the year. However, it's important to be mindful of the leaves and debris that may fall onto your outdoor patio furniture come autumn.
Whichever decision you choose to make, bringing in a little shade can keep everyone cool and comfortable in your outdoor space.