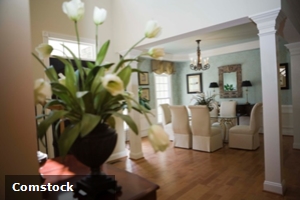 In the new year, one trend that you may want to incorporate into your living spaces is modern furniture. Whether you're in the market for new bedroom furniture or home entertainment furniture, contemporary decor can be just what you need to freshen up your home, but what if you've never utilized this style before?
One way to bring more contemporary flair into your house is to incorporate pieces of furniture such as the Florence Knoll Style Loveseat. This chair encompasses everything about contemporary decor with its sleek black leather, hard edges and metal legs.
As Freshome.com states, modern design is all about fine lines and cleanliness. Minimalism is also key - keep this in mind as you shop for new sofas, loveseats, bed frames and chairs for your home.
Whether you're redesigning your bedroom or your living room, TLC states that your spaces can benefit from inviting, bold colors - gone are the days when modernism meant only using black and white. Consider a color theme adding two or three hues you truly love to create a contemporary look.
By taking these tips into account, you can be sure your home looks fresh and updated as you kick off the new year.