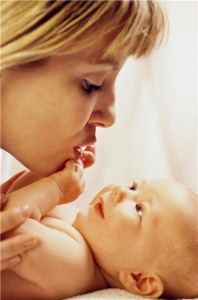 You might be thrilled to find out that you're expecting a little bundle of joy, but have you thought about how you're going to child-proof your home? Before the baby comes, you'll need to make sure your most-used rooms are ready to handle a small child.
The living room is often an area for concern for many parents, especially those with home entertainment furniture that isn't exactly baby-proof. To make sure that your living room is ready for a little one, you might need to remove tables and chairs with sharp edges that can pose a hazard to a baby.
Next, you'll have to find a way to eliminate clutter and make the space more accommodating to a little one who may be crawling around. Consider bringing in a DVD storage cabinet for all of your media. Not only will this help you stay organized, but it will keep your baby safe.
Finally, HelloBeautiful.com reminds all parents to cover up any electrical outlets, bundle up stray wires and keep breakable items out of the way (it's time to put away your glass figurines!). In the end, you'll have a household completely prepared for whatever the baby brings your way.