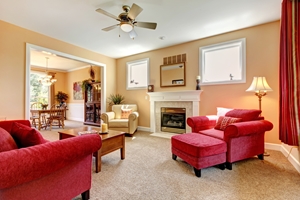 If you have a collection of home theater furniture that you want to bring into a new place, it might be difficult to utilize it if you're downsizing. Many people are forced to give away their home entertainment furniture when they move as a result of a lack of space. However, don't give up on your investments just yet - there are a few tips you may be able to use to keep everything from your Le Corbusier Style Grand Sofa to your favorite floor lamp.
Use corners efficiently
TLC states that many people often fail to utilize the corners of their rooms efficiently, which can result in difficulty while arranging furniture. Look for ways to transform your room corners into areas for shelving and storage to make the most of your new home. Less clutter means more room for furniture.
Assess the space before moving in
Freshome.com recommends analyzing your new home and measuring accurately before moving in your furniture. This can give you a better idea of how everything will fit.
Have a plan
Midwest Living encourages homeowners to develop a plan before moving in as well. This can make the furniture arrangement process seamless and painless.
Ideas to get your started:
The Coconut chair is the perfect corner chair. Triangle in shape is nestles into any corner while maintaining that modern comfortable look.
The Swan Sofa inspired by Arne Jacobsen has a nice compact size and shape to beautify any small space.