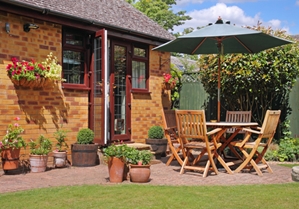 You might have items such as the Le Corbusier Style Chair in your home, but what about outside? Your patio deserves just as much TLC as your indoor living spaces, and with a new outdoor patio furniture set, you can achieve your design goals. Here are some tips for transforming your patio or deck into the sanctuary of your summer dreams.
1. Make sure it's made for the weather
Whether you have an ample amount of rain in your region or your deck sits in direct sunlight, TLC recommends taking Mother Nature into consideration. Be sure to choose patio furniture that can handle the elements over time.
2. Decorate with plants
The easiest way to make your outdoor space feel more relaxing and connected to nature is to introduce more plants, according to Homedit. Just make sure to plan out where you want them all to go before you try to create a green oasis in your backyard.
3. Get creative
Architecture can do wonders for an outdoor area, according to HGTV, meaning it's crucial to keep this factor in mind as you shop for furniture. Look for pieces that inspire you - not just those that give you a comfortable place to relax.