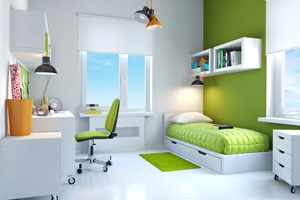 You might love the idea of having a Le Corbusier Chaise Lounge Chair in your bedroom for comfort, but it goes without saying that a piece such as this might not do as well in a child's space. Bedroom furniture needs to be functional as well as eye-pleasing to little ones, and it can be a bit of a balancing act during the design process. Here are some tips for creating a kid's bedroom that is attractive and practical.
1. Pick a calming wall color
Whether you have a teenager or an energetic toddler, Real Simple magazine recommends choosing a wall color that's calming and soothing. Think soft blues or greens to help your kids drift off to sleep at night.
2. Dedicate an area for displaying art
HGTV states that it's in your best interest to give your children a place to show off their crafts. This will prevent them for putting it in places that you would rather keep clean and clutter-free.
3. Create plenty of storage
Storage bins and cabinets - preferably in areas where children can reach - are ideal for keeping bedrooms less messy and organized.