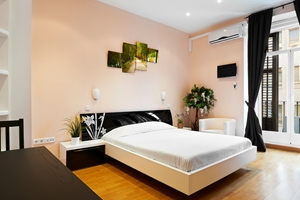 You might love the look of the Le Corbusier Style Grand Sofa in your living room, but this type of furniture may not work well in your master suite. If you have a limited amount of space in your bedroom, there likely isn't much square footage available for items such as a beautiful sofa or antique vanity. That being said, you may be wondering if there's anything you can do to improve the look and feel of the space.
Regardless of its current layout, there's always the opportunity to spice up the interior with new bedroom furniture and accent decor. You simply need to be willing to step outside of your comfort zone and try new decorating tactics. Here are some tips that have worked for other homeowners that you may find to be valuable in the redesigning process.
1. Go minimal
Have you ever wished that your master bedroom had a greater sense of calmness and serenity? If so, Martha Stewart recommends going minimal in the space. This might involve doing a bit of purging to eliminate the overwhelming number of furnishings already in the room. However, opting for simpler living may be just the ticket for getting a more peaceful, welcoming master suite.
2. Opt for luxury
If you don't enjoy your bedroom because it doesn't feel like it warrants an ample amount of attention, alter its decor so it deserves to be used! House Beautiful magazine recommends going for a sense of luxury in the space to give your master bedroom the makeover it needs. You don't have to splurge - simply spend a few extra dollars on items that you value, such as your bedding or lighting fixtures. Paying more attention to items you use regularly can instantly boost the look and feel of the space.
3. Get soft
It may sound like too simple of an idea to work, but bringing in more pillows might be all you need to do to increase the comfort factor of your master bedroom. Additionally, these decorative accents can pull colors and patterns from other items in the room, creating a more cohesive interior design. You don't have to sleep with all of them, but consider the depth they can bring to your decor.
There's no better time than the present to improve your master bedroom, and these easy tips can give you a starting place.