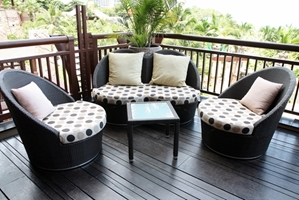 How many times have you wished your patio furniture would last more than one season? Unlike items such as the Florence Knoll Loveseat, which is shielded from the elements inside of your home, your outdoor patio furniture constantly has to contend with Mother Nature. That being said, avoid the following mistakes while shopping for new furnishings this season to complement your deck or patio.
1. Failing to buy covers
MSN claims that one of the biggest mistakes that homeowners make is failing to cover their furniture when it's not in use. Covers can easily prevent damage to chairs and tables, which can extend their life spans.
2. Misinterpreting the material
Understanding the material that your furniture options are composed of can help you make shopping easier. For instance, Real Simple magazine claims that wrought iron pieces are durable and stand up to wind. On the other hand, wood can be more eye-pleasing and create a sense of warmth. Familiarize yourself with these facts before making a purchase.
3. Forgetting its purpose
Do you want furniture that just your family can use or do you expect it to be utilized frequently by guests? Is it important to you that your pieces are durable as well as comfortable? Examining these factors can help you find patio furniture that you can keep around for years.