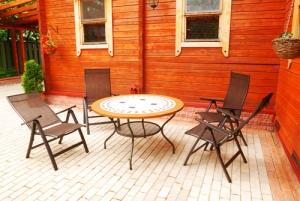 While you still might be trying to find ways to keep warm and ride out the winter, it's never too soon to start thinking about replacing your outdoor patio furniture. Whether you could use a new set or you think your existing one won't last through the winter, there are a few tips you can take into account as you shop.
1. Look for stainless steel screws in wooden furniture.
If you're interested in purchasing patio furniture composed of wood, look for pieces that use stainless steel screws. This will reduce the risk of the items falling apart over time, and the screws can always be tightened in the future, according to Better Homes and Gardens magazine.
2. Opt for ultraviolet ray-resistant iron.
Is wrought iron more up your alley? Real Simple magazine recommends looking for this variety of patio furniture with a powder coating and UV protection. This can ensure that it won't fade or rust over time.
3. Buy with comfort in mind.
When shopping for a new patio furniture set, make sure you look for one that's comfortable as well as eye-pleasing to get the most bang for your buck.