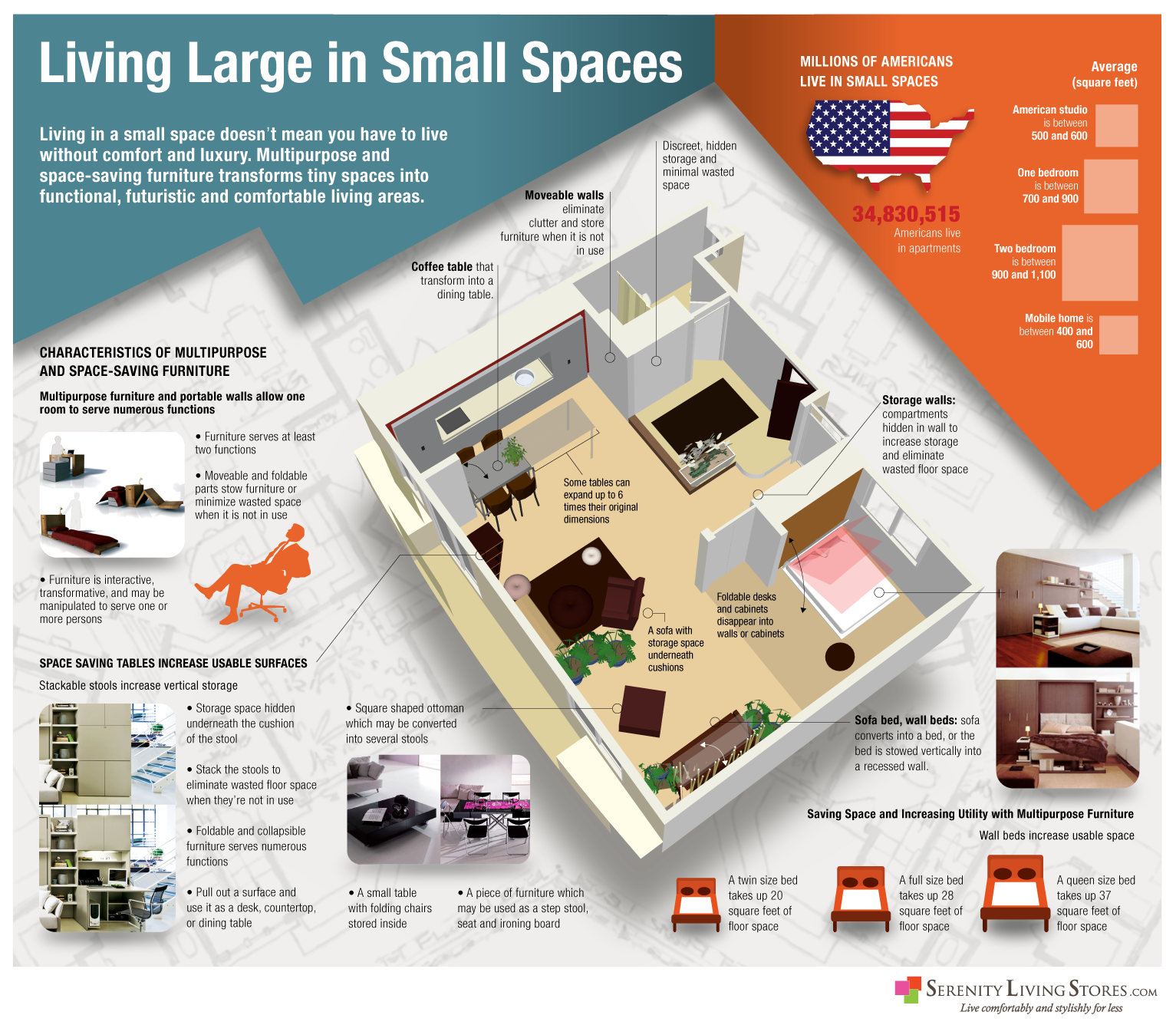 Add This Infographic to Your Site

Living Large in Small Spaces
Living in a small space doesn't mean you have to live without comfort and luxury. Multipurpose and space-saving furniture transforms tiny spaces into functional, futuristic and comfortable living areas.
Millions of Americans live in small spaces. 34,830,515 Americans live in apartments.
Average square feet
American studio - is between 500 and 600
One bedroom - is between 700 and 900
Two bedroom - is between 900 and 1,100
Mobile home - is between 400 and 600
Characteristics of multipurpose and space-saving furniture:
-furniture serves at least two functions
-moveable and foldable stow furniture or minimize wasted space when not in use
-furniture is interactive, transformative and may be manipulated to serve one or more persons
-discreet, hidden storage and minimal wasted space
-Moveable walls eliminate clutter and store furniture when its not in use
-Coffee table that transforms into a dining table
-some tables can expand up to 6 times their original dimensions
-Storage walls: compartments hidden in wall to increase storage and eliminate wasted floor space
-foldable desks and cabinets disappear into walls or cabinets
-a sofa with storage space underneath cushions
-sofa bed, wall bed: sofa converts into a bed or the bed is stowed vertically into a recessed wall
-space saving tables increase usable surfaces:
square shaped ottoman which may be converted into several stools
storage space hidden underneath the cushion of the stool
stack the stools to eliminate wasted floor space when they're not in use
foldable and collapsible furniture serves numerous functions
pull out a surface and use it as a desk, countertop or dining table
a small table with folding chairs stored inside
a piece of furniture may be used as a step stool, seat and ironing board
Saving space and increasing utility with multipurpose furniture.
Wall beds increase usable space
A twin size bed takes up 20 square feet of floor space
A full size bed takes up 28 square feet of floor space
A queen size bed takes up 37 square feet of floor space