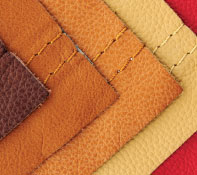 Choosing the leather for your furniture

Leather is processed in different ways to create a unique look, feel and durability. Choose your leather according to your lifestyle and the design of the piece.
Find the leather that best matches you:

GENUINE LEATHER
1. Full Grain Italian Leather: No sanding or buffing before coating
This leather is considered the highest quality leather available. It is made of the best part of the hide and will often show imperfections, giving the leather a more "natural" look. The surface has not been sanded or buffed before the coating is applied.
Soft and thick
Natural Look
Breathability
Develops "patina" as it ages.
2. Top Grain Leather: Sanded and coated
Top Grain Leather is considered the second best quality leather, as it is made from the second cut of the hide. The leather is split, and the top part is sanded and coated to increase durability.
Less breathability
Colder feel
Greater resistance to stains
Durable
Will not develop "patina" as it ages
3. Corrected Leather: Artificial grain and coating
This leather comes from a less-than-perfect part of the hide. The surface grain is buffed to remove the imperfections. An artificial grain and coating is applied.

4. Bycast or Split Leather:
This leather is made of the parts of the hide that are left over. They are the fibrous portions that occur after the split of the leather. Polyurethane has been embossed to the surface.

LEATHER ALTERNATIVES

1. Matched Vinyl: For the parts of your furniture that are not visible, vinyl that has been dyed to match your leather choice can be used to add extra durability and price.
2. Bonded Leather: An alternative to genuine leather is bonded leather which is made from hide fibers that have been joined together with latex and stamped with a grain-like pattern.

LEATHER FINISHES

Aniline refers to the finish of the leather. Aniline is found on full grain leather.
1. "Full" or "Pure" Analine: Uses dye only
Aniline leather is the closest to the real thing. It has been dyed all the way through with no protective coating. It breathes naturally and has a soft and supple feel.
No protective coating
Soft and subtle feel

Ideal for: Best for high quality furniture that doesn't see much use, such as households without children.

2. Semi-Aniline (finished): uses dye and pigments.
Top coat or pigment: evens out the colour, protects against stains
More durable

Ideal for: Frequently used furniture pieces, such as chairs and sofas and house-holds with children.

What is the difference between Italian versus Aniline Leather?


Both the Italian and Aniline options we provide are full-grain leathers, meaning that the leather has not be sanded, buffed, or corrected. The grain remains allowing for fibre strength and durability. Lastly, all parts of our products are genuine Italian or Aniline leathers, even the underside of the products and piping

ITALIAN LEATHER

Italian leather is well known throughout the world and is used for most high-end furniture upholstery. While most people believe it is leather from Italy, this is not always the case. It is named Italian leather due to the tanning process of creating leather that was perfected in Italy years ago. Many Italian companies produce their leather in various parts of the world nowadays, but the important part is the production process. Ultimately, Italian leather looks good and is much more durable when compared to other leathers. Italian leather is flexible due to its appearance and durability and can be used in almost any setting from home use, restaurants, lounges or retail stores.
looks like quality leather
durability

ANILINE LEATHER
Aniline leather is a type of leather that is dyed with Aniline dye and does not contain a top-coat on the finished leather. This results in a leather than retains the hide's natural surface but does not protect the leather from damage. Aniline leather is very soft to the touch and appears luxurious. Over time the wrinkles and grain become more apparent as the leather is sat upon and used. We recommend this type of product for settings at a home, but not a commercial setting due to the development of patina's with excessive use. Excessive use (more than 50 uses per day) will result in patina's that leave the leather looking antique, although in some cases this may be desired.
soft to the touch
natural leather look
less durable: wears to an antique look.