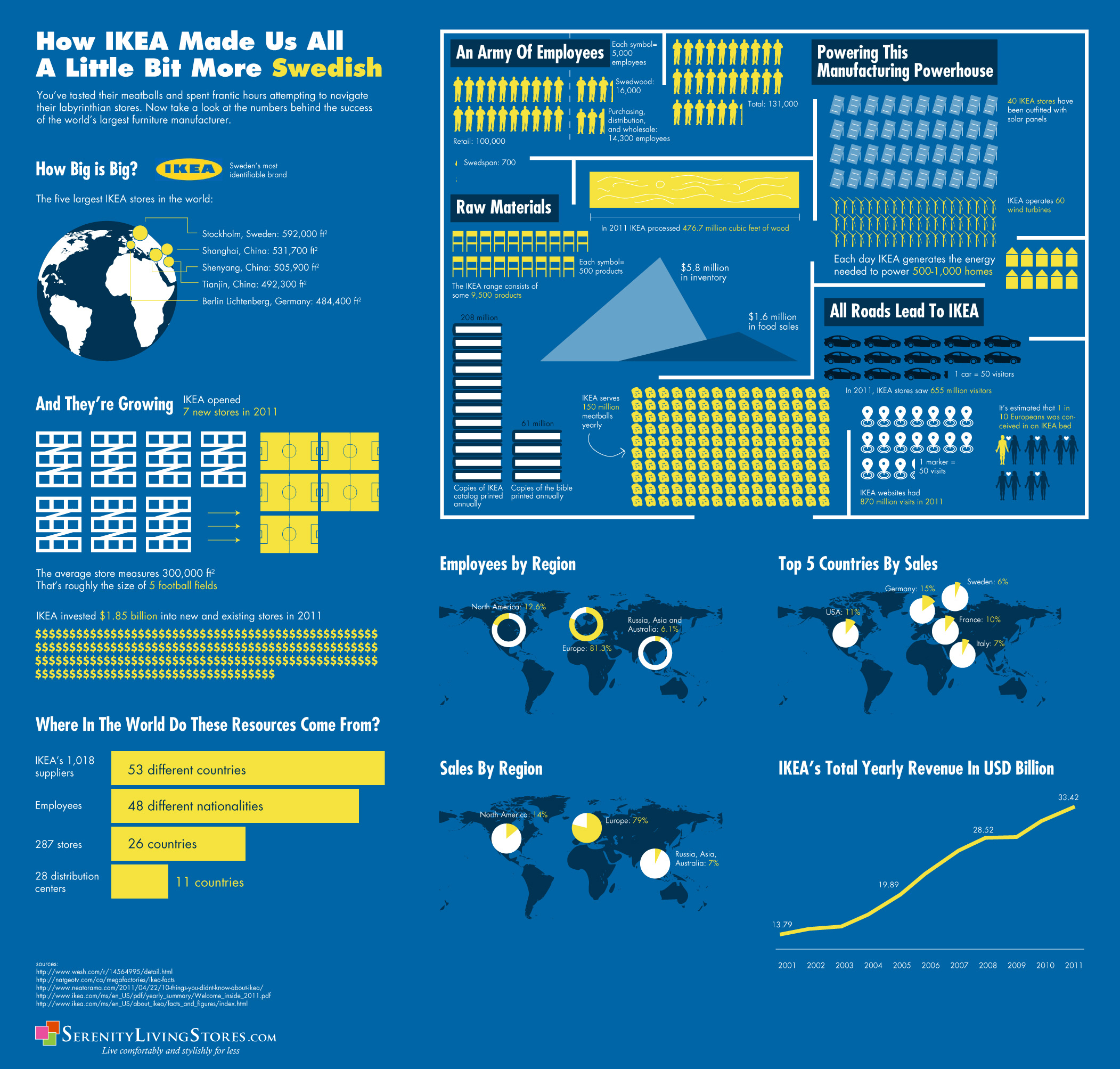 Add This Infographic to Your Site

How IKEA made us all a little bit more Swedish
You've tasted their meatballs and spent frantic hours attempting to navigate their labyrinthian stores. Now take a look at the numbers behind the success of the world's largest furniture manufacturer.
How big is big?
IKEA is Sweden's most identifiable brand
The five largest IKEA stores in the world:
Stockholm, Sweden: 592,000 square feet
Shanghai, China: 531,700 square feet
Shenyang, China: 505,900 square feet
Tianjin, China: 492,300 square feet
Berlin Lichtenberg, Germany: 484, 400 square feet
And they're growing. IKEA opened seven new stores in 2011
The average store measures 300,000 square feet. That's roughly the size of five football fields.
IKEA invested $1.85 billion into new and existing stores in 2011.
Where in the World Do These Resources Come from?
IKEA's 1,018 suppliers: 53 different countries
Employees: 48 different nationalities
287 stores: 26 countries
28 distribution centers: 11 countries
An Army of Employees:
Swedwood: 16,000
Retail: 100,000
Purchasing, distribution and wholesale: 14,300
Swedspan:700
Total: 131,000
Raw materials:
In 2011 IKEA processed 476.7 million cubic feet of wood
The IKEA range consists of some 9,500 products
$5.8 million in inventory
$1.6 million in food sales
208 million copies of IKEA catalog are printed annually
61 million copies of the bible are printed annually
IKEA serves 150 million meatballs yearly
Powering this manufacturing powerhouse:
40 IKEA stores have been outfitted with solar panels
IKEA operates 60 wind turbines
Each day IKEA generates the energy needed to power 500-1,000 homes
All roads lead to IKEA
In 2011, IKEA stores saw 655 million visitors
It's estimated that one in 10 Europeans were conceived in an IKEA bed
IKEA websites had 870 million visits in 2011
Employees by region
North America: 12.6%
Europe: 81.3%
Russia, Asia and Australia: 6.1%
Sales by region:
North America: 14%
Europe: 79%
Russia, Australia, Asia:7%
Top five countries by sales:
U.S.A: 11%
Germany:15%
Sweden: 6%
France:10%
Italy:7%
IKEA's total yearly revenue in USD billion
2001:13.79
2005:19.89
2008:28.52
2011: 33.42