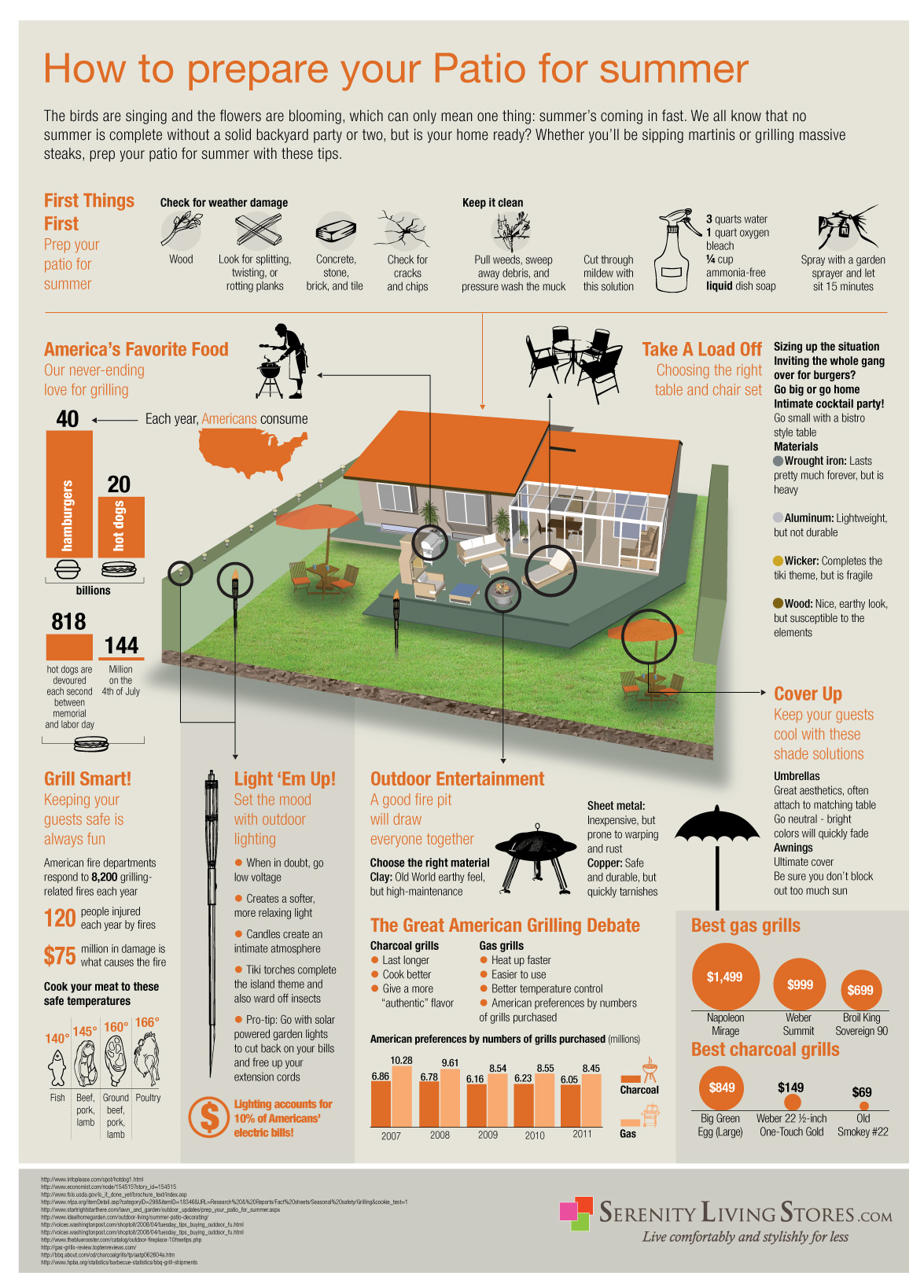 Add This Infographic to Your Site

How to Prepare Your Patio for Summer
The birds are singing and the flowers are blooming, which can only mean one thing: summer's coming in fast. We all know that no summer is complete without a solid backyard party or two, but is your home ready? Whether you'll be sipping martinis or grilling massive steaks, prep your patio for summer with these tips.
First things first - prep your patio for summer.
Check for weather damage
Wood- look for splitting, twisting or rotting planks.
Concrete, stone, brick and tile - check for cracks and chips.
Keep it clean
Pull weeds, sweep away debris and pressure wash the muck.
Cut through the mildew with this solution:
3 quarts water
1 quart oxygen bleach
¼ cup ammonia free liquid dish soap
Spray with a garden sprayer and let sit 15 minutes.
America's Favorite Food: our never-ending love for grilling
Each year Americans consume 40 billion hamburgers and 20 billion hot dogs.
818 hot dogs are consumed every second between Memorial and Labor Day.
144 million hot dogs are consumed on the 4th of July.
Grill Smart! Keeping your guests safe is always fun.
American fire departments respond to 8,200 grilling-related fires each year.
120 people are injured each year by fires.
$75 million in damage is caused by the fires.
Cook your meat to these safe temperatures:
Fish - 140°
Beef, pork, lamb - 145°
Ground beef, pork, lamb - 160°
Poultry - 166°
Light 'em Up! Set the mood with outdoor lighting.
When in doubt, go low voltage
Creates a softer, more relaxing light
Candles create an intimate atmosphere
Tiki torches complete the island theme and also ward off insects
Pro tip: go with solar lights to cut back on your bills and free up your extension cords. (Lighting accounts for 10% of Americans' electric bills!)
Take a Load Off. Choosing the right table and chair set.
Sizing up the situation.
Inviting the whole gang over for burgers?
Go big or go home.
Intimate Cocktail party!
Go small with a bistro-style table
Materials:
Wrought iron - lasts pretty much forever, but is heavy
Aluminum - light weight but not durable
Wicker - completes the tiki theme but is fragile
Wood - nice, earthy look but susceptible to the elements
Cover Up. Keep your guests cool with these shade solutions.
Umbrellas - great aesthetics, often attached to matching table. Go neutral, bright colors will quickly fade.
Awnings - ultimate cover. Be sure you don't block out too much sun.
Outdoor Entertainment. A good firepit will draw everyone together.
Choose the right material.
Clay - old world, earthy feel, but high maintenance
Sheet metal - inexpensive, but prone to warping and rust
Copper - safe and durable but quickly tarnishes
The Great American Grilling Debate
Charcoal Grills
Last longer
Cook better
Give more "authentic" flavor
Gas Grills
Heat up faster
Easier to use
Better temperature control
American preferences by number of grills purchased
American preferences by number of grills purchases (in millions)
Charcoal
2007 = 6.86
2008 = 6.78
2009 = 6.16
2010 = 6.23
2011 = 6.05
Gas
2007 = 10.28
2008 = 9.61
2009 = 8.54
2010 = 8.55
2011 = 8.45
Best Gas Grills
Napoleon Mirage - $1,499
Webber Summit - $999
Broil King Sovereign 90 - $499
Best Charcoal Grills
Big Green Egg (Large) - $849
Weber 22 ½ inch One-Touch-Gold - $149
Old Smokey #22 - $69